Pend Oreille Women's Retreat 2018
"The decision to grow always involves a choice between risk and comfort."
– John Ortberg Jr.
Are you ready to step outside your comfort zone to find the incredible potential that awaits?
Please join area women for this enriching weekend seeking to connect with God and one-another on a new level. Participants will be presented with a boat-load of topics to explore from John Ortberg's book "If You Want to Walk on Water, You've Got to Get Out of the Boat". The worship team will lead six in-depth chapels with small breakout group sessions. This retreat will be a time for spiritual growth and a chance to know God as only a water-walker can, aligning yourself with God's purpose for your life. Mark your calendar today!
When: April 27-29, 2018 (Registration 4:00-6:00pm on Friday.
We will wrap-up after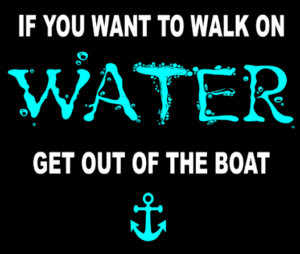 lunch on Sunday at about 1:00pm)
Where: Pend Oreille Bible Camp – 7852 LeClerc Road South, Newport, WA 99156
Who: Ladies 16 and up
"On the risky waters of faith, Jesus is waiting to meet you in ways that will change you forever."
– John Ortberg Jr.
Cost: $79 (includes two nights' accommodations, meals, participant guide, and activities)
http://pobcamp.org/wp-content/uploads/2018/03/WC-Registration-2018.pdf
Additional Items
T-shirt $9 (plus sizes $11)
Zip-up hoodie $24 (plus sizes $26)
Hard-cover book $11
For more information: Kelly Keogh – 509-671-2741 or (mikellykeogh@aol).com